Starting With Students: One Teacher's Design Thinking Journey
"Innovation" was a buzzword humming around the educational zeitgeist when I started the Education Innovation Fellowship in January. When I talk to people about the program, they often ask what that word, "innovation," means, and I have to admit, I was wary of the fuzzy term. Luckily, the innovation I have found is something clear and tangible: an entirely new (to me) way of solving challenges in our schools—a process we call design thinking. I want to share a little bit about my ongoing journey through this process, because I think that it has value for other teachers tackling thorny problems in their own classrooms—and I'll share some of the awesome experiences and resources I encountered along the way.

STEP 1: EMPATHIZE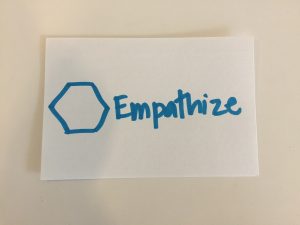 The radical idea at the core of this first step is that if you want to know what will work best to solve a particular challenge for students, you should ask them.
What may seem common sense to some is a first step often overlooked by many. We, as teachers, get into our planning zone and consult with all kinds of peers, experts, and stakeholders. We seek the counsel of instructional coaches or more experienced colleagues; we ask families the best ways to support their students; we scour the Internet to find interesting new resources; and while all of this is helpful, we can forget to reach out to the most important stakeholders involved in the classroom: students themselves. The first step in designing our new classroom prototypes was to conduct empathy interviews with students. The purpose was to ask them what was working and what wasn't, and to see what ideas they had about how to make their learning more enjoyable and effective.
Ultimately, we used the data gathered from these interviews to tell stories about our students—who they are, what motivates them, and what they need in their school and classroom environment to be successful. This knowledge would form the foundation of what came next in defining the particular challenge we wanted to tackle in our classrooms. As another fellow said to me: "If you have never been outside of a box, then do you know you are in a box? Can you dream of what is outside of the box? If not, then how can students who have never seen any different say they want their class to be different?"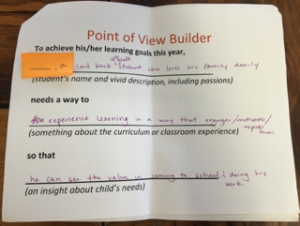 STEP 2: DEFINE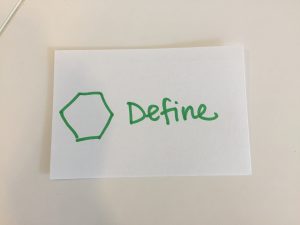 In the second step of the design-thinking process, I crafted open-ended statements asking "How might we…?" tackle specific problems, and shaped "mad libs" identifying my students' needs.
After gathering information about what my students say about their learning experience and what they actually do in the classroom, I used that knowledge to identify what I think they need most. This became the driver of all brainstorming, and the way to hone in on one particular challenge that considered the desires and struggles expressed by the students.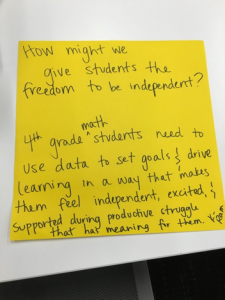 In interviews, my students discussed how they wanted a balance of independent work time and group work, but that they wanted to decide which type made the most sense for them when practicing a given skill or solving a task. They liked feeling supported by each other and by me as their teacher, and hoped to continue choosing their own partners or groups while working at their own pace. Many of my students also said that the reason people should learn math is because of its real-world application and importance for everyday skills. As a result of these insights, my innovation prototypes during the spring semester focused on ways to incorporate more student choice and voice into our current station rotation model.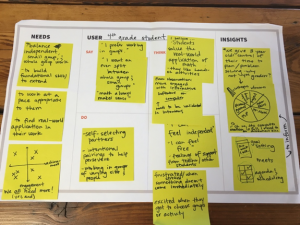 STEP 3: IDEATE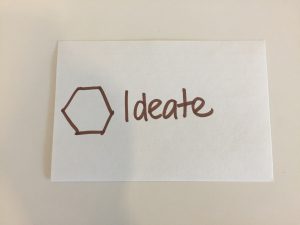 My next task was to learn about what other educators outside my school are doing while simultaneously keeping my own students in mind.
One amazing aspect of participating in the Fellowship is that we have the opportunity to travel to see classrooms and schools around the country where other educators are doing innovative work. As a cohort, we have seen schools of all shapes and sizes in the Bay Area and Los Angeles, California, across the city of Chicago, and right here in our nation's capital. I returned from these trips energized, inspired, and ready to hit the ground running in my own classroom. Before embarking on these trips, however, I found myself in need of a design-process attitude check.
The ideate phase of the design thinking process doesn't believe in bad ideas. It asks you to suspend judgment of thoughts that surface, and to be open to learning from places or sources you had not previously considered. While this is all well and good in theory, it was admittedly difficult to squash the small voice in the back of my head that tells me all the reasons why an idea would never work. I was at risk of entering these innovative classrooms across the country having already decided that there was no way what I saw would work in my own classroom. To prevent that mindset from getting in the way of my own learning, I came up with a plan. I would try to enter each school we visited with an open mind, while also reflecting on my specific students. Rather than focus on the myriad reasons that what I saw in practice couldn't work in my own context (lack of technology, money, support, or know-how, for starters), I instead chose to keep a simple journal. I would write down two or three big takeaways from each school we visited. I would document key artifacts and examples related to the many different kinds of student work we saw. As a result, I walked away from these trips with a rich bank of ideas that I could then use when brainstorming my own station remodel. I saw how innovation could mean students flying a drone around a classroom (yes, that happened!) but can also involve teachers and students moving through more traditional class structures in new and interesting ways.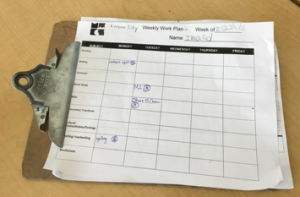 While visiting Urban Montessori in Oakland, CA, we had a chance to see students creating their own work plans. They were given a list of core subjects they needed to work on by the end of the week, and when they finished a given activity in one of those areas a teacher would identify the activity the student chose and sign off to indicate mastery.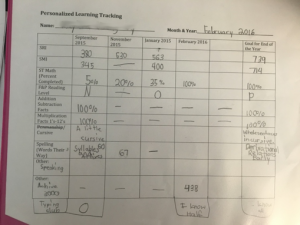 Students in a 4th grade class at La Escuelita, also in Oakland, kept personalized data trackers in their notebooks. These allowed students to set their goals for the year and keep track of their progress in reaching these goals along the way.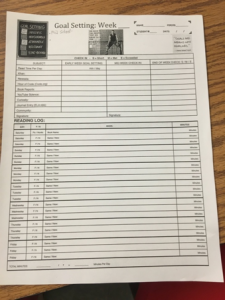 A 5th grade class at La Escuelita had students setting not just long term goals, but also weekly ones. They decided how many minutes they anticipated needing to spend on the different programs or activities to meet these goals and planned their own class time and homework accordingly.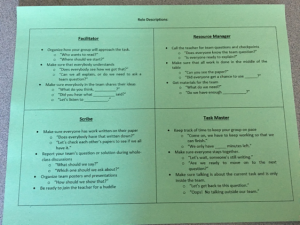 At the Summit Prep campus we visited in Redwood City, CA, students were supported as they worked in groups on projects. One scaffold was assigning students different roles, but also giving them question frames to encourage more dialogue and to help keep themselves on track. While a lot of the work students do for these projects is online, they still had daily activities related to the big projects that required collaborative work.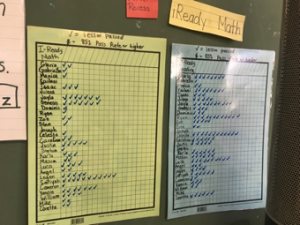 A teacher at Saint Anne School in Los Angeles had students check off their own progress when working through online programs using a wall tracker.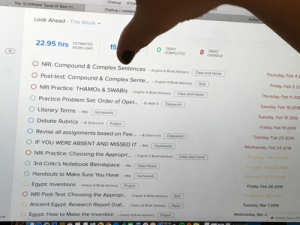 Here, a ninth grade student at the Incubator School in Los Angeles shows off their personalized learning plan, or PLP. The PLP organizes assignments created by the teacher into an online platform for students to complete.
Students at Rocketship in Santa Clara, CA, had their own data trackers for the week, but also visual reminders of what their goals were for each of the online programs students used.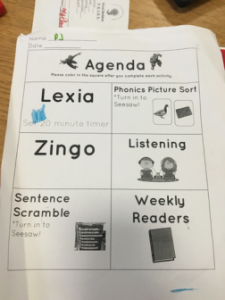 Classrooms across grade levels at CICS West Belden in Chicago used menus to allow students options when choosing their classwork. On the left above, an early childhood teacher presented students a menu of options they can choose from each day. Students must complete all of the activities by the end of the week to earn free time on Fridays (and submit the work using an app called Seesaw, but they have control over when they complete the activities in a given week.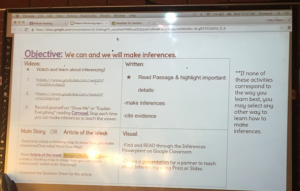 Above is the agenda projected for the day in an upper elementary reading classroom where students are given an objective—making inferences in this case—and presented with multiple ways to meet that objective. They can watch videos, read articles, or create presentations, and each mode has its own submission to prove mastery.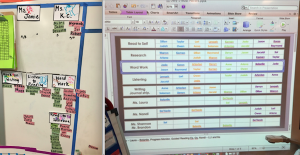 Students at Two Rivers PCS here in D.C. also had visual systems to track their student centers. A Kindergarten teacher allowed students to pick their activity during group work by moving their magnetized name, and students in an upper grades classroom were given their station rotation assignments on a PowerPoint slide projected on the board each day.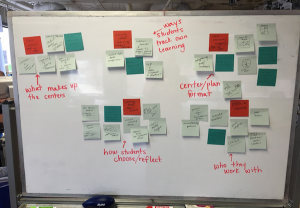 Now that I had learned from some of the big thinkers in redesigning schools, it was my job to come back and synthesize. How could I use the best of what I saw and tweak it to try it out in my own classroom?  I began brainstorming the different elements of station work that I wanted students to experience—from what the actual center activities would be, to who students could partner with, and how they would plan out their work and reflect on their learning. Taking a few of these ideas, I created my "minimally viable product" or prototype that I wanted to try out as we wrapped up the school year.

STEP 4: PROTOTYPE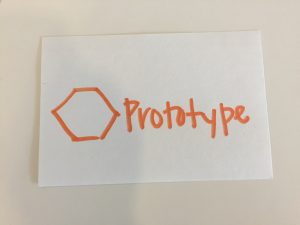 What can I try out on Monday to see how it goes?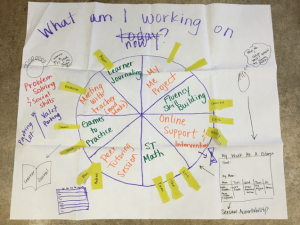 My essential idea after many rounds of brainstorming was that students would self-select their station work after analyzing their individual data and creating their own personalized weekly learning plan. This idea—students making their station plans—was based on classrooms I had seen in California and Chicago, along with what I knew to be happening in early childhood programs across D.C. Tools of the Mind is a curriculum used by many DC Public Schools that helps students learn self-regulation through structured play. The early childhood students make make a plan and then pick a station, e.g., "I am going to learn about splashing at the water station." A teacher then attaches a clothespin to an activity wheel or some other sort of indicator to place a student at this activity. The scheduling wheel balances the size of groups, because if the water station is already full, the student has to pick a different station. This, in the context of all of the personalized learning I had seen at work, was a light bulb kind of moment for me. Who do we as teachers allow to have agency? If four year olds can be given the freedom to structure their own learning, why not fourth graders? At what point does the urgency to learn critical skills crowd out the agency and autonomy we are willing to give students, and what is the balance? These questions were driving me as I put out my first prototype.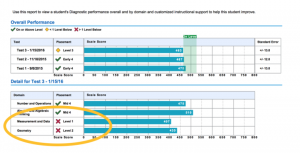 Because we were nearing the end of the school year, I asked students to analyze their most recent i-Ready diagnostic assessments to see the content areas they should focus on. They then underlined the specific skills within that content band (under "Next Steps for Instruction" below) to target for the week. The idea was that they would build these critical skills that the data said they still needed to be ready for the fifth grade.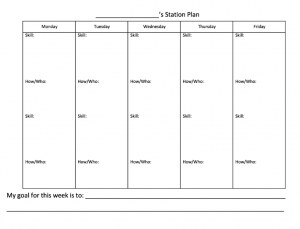 Students placed the skills they targeted into their weekly planner. They then reflected on which activities would help them to learn that particular skill. As we rolled out the plans, students were given a choice of activities: ST Math, working with a peer tutor, playing content-based games, practicing their fluency facts, or meeting with me as their teacher. Students had already been participating in these activities throughout the year during station time, so they were familiar with procedures and expectations already.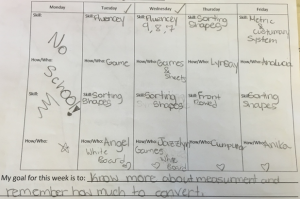 STEP 5: TEST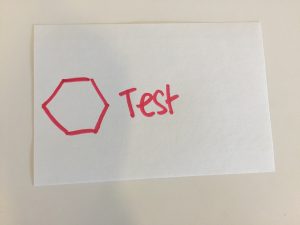 In this stage of the process, students test the prototype in action while I learn from them and make changes.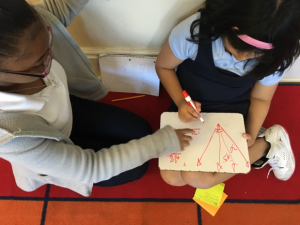 Students used their i-Ready data to identify areas of strength as well as areas where they needed practice. They self-identified as experts on a given topic, and signed up to have other students come to them for tutoring support.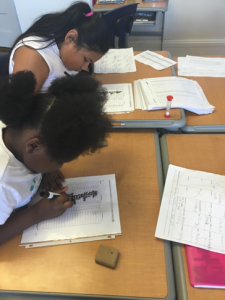 Groups of students practiced their fluency by timing their knowledge of facts, playing games, or using our online programs.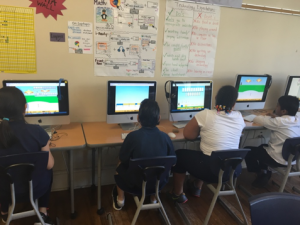 THEN IT'S TIME TO ITERATE, ITERATE, ITERATE!
Here I look back to the empathize step, and the cycle of work continues.
As you can imagine, implementing this new way of doing stations generated a whole other set of questions that will lead to further tweaking and learning. I'm doing more brainstorming around the different ways students can document their learning at the stations, how I can ensure high mathematical accuracy and quality of work while students are working independently or in small groups, and the best way for students to reflect on how the stations are going for them, to name a few.  Importantly, this tweaking will involve more interviewing and observing students to find out what works best for them. I'm excited to continue this learning during the summer and fall as I prepare to roll out this work with a new group of students. Most of all, I'm excited to see how using the design thinking process has changed the way I view my classroom and my students, and how we go about solving problems together.
Kaila Ramsey is a 4th grade math and science teacher at H.D. Cooke Elementary School.